Chatbots and Conversational AI's often get used synonymously. It would come as a surprise to many that they have a huge difference. Let's delve deeper into it to learn more.
How are Chatbots different from Conversational AI?
Chatbots 
Chatbots are the combination of two words chat + bot. Chat is a term used to describe a form of communication that is either textual or voice chat.
A bot is an abbreviation for a robot. It is a software program that works on a rule-based model. A chatbot only executes predefined interactions that include questions and answers. 
It provides a robotic experience with limited responses based on elementary keyword recognition on a single channel.  
Conversational AI
Conversational AI (Artificial Intelligence) is a technology that offers virtual assistance to humans through a human-like interaction conducted via text or voice.
It uses advanced Natural Language Processing and machine learning to respond intelligently instead of a predefined format. 
It is multilingual and has access to multiple channels. In addition, it has various system integrations which help in providing satisfying customer interaction. Every Conversational AI is a part chatbot that is AI-enabled, although not every chatbot is a conversational AI. 
What are AI-enabled Chatbots? How are they different from regular chatbots?
AI-enabled chatbots are a type of chatbots integrated with Artificial Intelligence. It enhances the normal functions of chatbots to provide an interactive experience to the customers. 
Unlike conventional chatbots, AI-enabled ones are multilingual and integrated with different communication channels. 
They store data from various sources in a centralized place and interact according to customer preference. They provide a human-like experience in the absence of human agents.
Advantages of AI chatbots
Instant Seamless Experience- 
AI-enabled chatbots follow an integrated workflow that helps in creating a seamless customer experience. 
When the customers reach out for their queries, there is already a sense of annoyance present there, so the intelligent and instant responses provided by the chatbots help create a positive experience and leave a good impression.
24/7 Availability- 
AI-enabled chatbots are available 24×7. It is immensely convenient to the customers as problems can arise anytime. 
Unlike in the case of human agents, customers don't have to wait for working hours on a business day to be able to find a solution. Chatbots provide consistent support without the time constraints of a human agent. 
Reduces Expenses and Saves Time-
Research conducted by Retail Dive shows that the healthcare, banking, and retail sectors will save $11 billion in the cost of customer representatives by 2023. This saving will increase by $6 billion in 2018.
Customers and businesses in the three industries will save more than 2.5 billion hours.
Reduces Agent Interactions-
In every interaction, agents spend a lucrative amount of time engaging with the customers. 
Ai-enabled chatbots provide human-like conversations that help save ample time and energy. In addition, it allows businesses to reduce the average interaction time between agents and the consumers and engage in other tasks.
Standardizes Service Offering-
A standard for service offering can be hard to enact for agents as their state of mind and attitude may vary according to different situations. 
On the other hand, though, the services follow a standardized manner in the case of AI-enabled chatbots. As a result, chatbots do not have bad days or get drained by repetitive queries.  
Reduces Customer Frustration- 
AI-enabled chatbots simplify the process of service offering by providing solutions to complex queries in minutes. On the other hand, it takes more time for the agent to go through all the data available and answer the question, which increases customer frustration. 
It also saves the customer from the hassle of repeating their problems as it has access to multichannel data and customer journey.  
Avoids Interactive Voice Response (IVR) Systems-
IVR systems are one of the most disliked technologies by customers in customer experience. 
Research conducted by Vonage shows that 61% of customers believe IVRs result in a poor service experience; around 51% of customers abandon a business based on it.
Implements Human-Touch- 
One of the many features of AI-enabled chatbots includes the personification of the software. Businesses can create different characters and program them accordingly. 
In addition, it helps provide advanced human-like interaction where the character would respond in a humorous tone if required. 
Enhances Target Marketing- 
AI-enabled chatbots get access to different kinds of customers through various channels. They use that to identify customer needs and requirements. 
That data later provides targeted ads to customers and helps in raising brand awareness among the right prospects.  
Increases Engagement-
AI-enabled chatbots increase customer engagement as they are not limited to a specific area of expertise. 
It provides solutions to different needs and queries of customers related to customer service, marketing, sales, and product details. With its quick responses, it also enhances the quality of service. 
Secures Customer Data- 
AI-enabled data has access to a customer's complete information collected through different channels. It keeps the data safe and secure. 
That data later helps the business understand their customers about their buying behavior, preferences, communication channel, etc., anything that seems beneficial to the companies.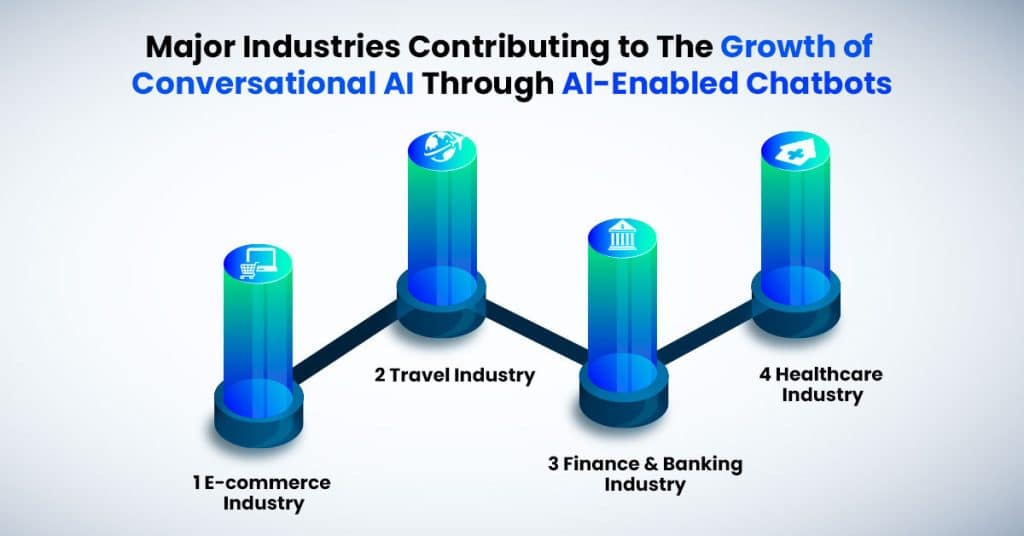 Major Industries Contributing to The Growth of Conversational AI Through AI-Enabled Chatbots
E-commerce Industry- 
From the time a customer opens an e-commerce website to the after-sales services and feedback, most e-commerce businesses use AI-enabled chatbots that help show targeted ads, update order confirmation, track delivery, product queries, etc. 
Travel Industry-
The travel industry uses AI-enabled chatbots to find the best offers at the best prices based on the data provided by the customers. It also helps find accommodation and beautiful places to visit after reaching the desired destination.
Finance & Banking Industry- 
Finance and Banking Industries use AI-enabled chatbots for various services- answering FAQs, executing specific actions and payments, informing about account information, investment management, credit applications, and money transfer.
Healthcare Industry- 
The Healthcare industry uses AI-enabled chatbots to provide accessible therapy to customers. It also answers their queries regarding insurance policies and claims. In addition, a virtual assistant helps to track medicines and dosage.
Wrapping Up
In conclusion, AI-enabled chatbots are resulting in the growth of conversational AI as it is a fundamental part of it.
When buying a conversational AI or AI-enabled chatbot for a business, it is essential to consider its performance & features, data security & privacy, the integration with other software & applications, and the user experience provided.