Online sales totaled $4.28 trillion worldwide in 2020. Experts at Statista also predict that this figure will rise to $6.388 trillion in 2024. This is great news for eCommerce, meaning the steady popularity growth of online stores.
At the same time, competition will increase. Even one click can matter, either leading to a purchase or turning customers away from you forever.
In such cases, customer and brand relationships are critical in making initial and repeat purchase decisions. In this article, I will discuss customer retention and customer loyalty. How do they differ? What place do they take within any business, and how do you boost them?
Key Takeaways
Customer loyalty and customer retention are not interchangeable.

A loyal customer doesn't choose another brand deliberately. In comparison, you can still lose a retained customer if you don't provide a great customer experience.

There is common ground between customer loyalty and customer retention.

A happy client becomes your loyal supporter and a retained customer.

Improving customer loyalty and retention requires some strategies.

These include conducting onboarding, collecting feedback, creating loyalty and referral programs, and generating customer value.
Customer Retention vs. Customer Loyalty: More Than the Difference in Wording
What Is Customer Retention?
Customer retention reflects how many customers haven't left. At least yet. 
It doesn't guarantee they will buy from you next time. A client who has previously done business with you may make another purchase, and they may not. They are less attached to the firm and may choose your competitor when the time comes.
Suppose you've completed the first stage. You had the first contact with the client. They acquire your product or download an app.
The primary goal of customer retention is to prevent revenue loss and customer churn. Your next task is to turn them into regular and loyal buyers.
What Is Customer Loyalty?
Customer loyalty shows whether a person will interact with the brand more than once and share your values. Why do you need to improve customer loyalty? It's not only because such a segment of your customers usually has higher average checks.
Of course, it's easier to encourage an existing client to buy something than to acquire a new one. For example, you can earn 33% more on repeat clients, according to research.
But there's even more than that. Loyal customers are your best promoters. It happens thanks to their positive recommendations and word-of-mouth reviews, which may possibly have a better effect than your marketing efforts. You can create a base of your advocates among existing clients. Or you can engage potential ones. Such loyalty has a delayed effect.
A few words about this type of prospective client. A prospect is more inclined towards your company because they've heard many good things about you from reliable people. Such potential customers can be active followers on your social networks who may, for example:
leave comments;

share posts;

participate in giveaways.
That is, prospects are interested in your brand but haven't purchased your product yet. This positive attitude remains in their memory. And they are more likely to buy a product or service offered by this company when the moment comes.
Customer loyalty isn't simply about avoiding income loss. It's also about business growth.
Customer Loyalty and Customer Retention: How Are They Connected?
We've covered the difference between the two concepts. But you also need to understand their connection. Why do people usually return to the company for more? Does it indicate the high quality of your product? Not necessarily.
Perhaps your product has a short expiration date, or you offer delivery in the customer's region, and there is no alternative. Which conclusions should you make in this case? There's a high chance that as soon as there is a better option (your competitor will offer something more appealing), you will lose these returning clients.
Loyalty is what you nurture before the transaction. Answer the following questions:
Do you prevent customers from being dissatisfied?

Do you ensure a positive

customer experience

?

Do you convert satisfied customers into loyal ones?
That is, satisfaction leads to loyalty. And loyalty ties the client to your company. As a result, you make more money on repeat purchases and can maintain a high position in the market because it's a sign of effective work that forms a good reputation.
5 Ideas to Improve Customer Loyalty and Retention
1. Take Care of Your Onboarding Program
How can a customer find out more about a product or service? They've signed up and want to study it as quickly as possible. In no time. Without any friction. That's where onboarding can help you.
Onboarding is introductory information from company representatives. It shows new customers what they've subscribed to or explains something about the product, service, or brand. The onboarding process works best by personalizing it according to the users' needs. Thus, customers will save time and understand how the product can help them achieve their goals.
How is onboarding effective? It prevents new customers from churning out. When they first get a product, they may find something hard to figure out. So it depends on you whether they'll stay or give it up.
This strategy applies not only to the B2B or software development spheres. Here's an email from an American restaurant chain, Carrabba's Italian Grill. What can you not understand in the work of a restaurant, you ask? The company uses this opportunity to tell its story, attach an introductory video, and outline what a subscriber will get.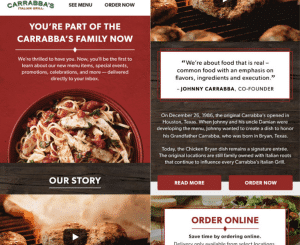 2. Facilitate Feedback
There's no way to enhance your business without feedback. Ask your customers about their experience. This data should be further processed within the organization, namely:
collecting;

analyzing;

distributing customer reviews and surveys to specialists;

posting these reviews on the site, social networks, and third-party platforms such as Google Reviews, Trustpilot, etc.
You need to be one step ahead of your customers' desires. Optimize some processes so as not to delay the workflow. Suppose you are using a customer relationship management service such as Salesforce. You can work on Salesforce fax integration to organize your documents and increase employee efficiency.
What are the trends in customer behavior? What are the options to improve the user experience? For example, if a customer didn't receive the proper support, you can send his complaint to your sales department. Or maybe your client failed to reach you due to the lack of round-the-clock customer support availability, then consider investing in chatbot functionality. The possibilities for improvements are limitless.
Some of the ways to collect customer feedback are as follows:
testing and focus groups;

email send-outs;

testimonials collected on product pages and social networks (such copy, created by your buyers, can influence the decisions of other shoppers).
Case in point, let's overview the Revivogen online store, selling products against hair loss. Their website has both the typical client reviews block at the bottom of the product page and a separate section for customer success stories. There are photos of satisfied customers before and after using the product to compare the result.
3. Create Loyalty Programs
There are customers with a high churn potential. So it's logical to focus on them, isn't it? But you shouldn't forget about your repeat buyers as well. They are your fans and expect the proper quality of service, so why not reward them?
How does a loyalty program work? It rewards customers for their commitment. The more they buy and interact with the brand, the more perks they get. So you level up their experience by offering some benefits.
Types of loyalty programs include:
Discount programs

. Discounts offer customers to save money on repeat purchases but they don't always contribute to loyalty. Clients can choose someone else if they offer it a lower price. But discounts are effective if a customer is already loyal;

Bonus programs

are crediting points to the card or account. What can be included in the bonus program? Free shipping, free product samples, free packaging, etc. Time-sensitive bonuses can motivate a customer to buy faster;

Partnered programs

. It applies to companies having partners. For example, a customer buys a product from you and receives a discount on the product or service from your program partner;

Charity contributions

, when you buy particular products, and the company donates some money from the client's purchase. It's not about saving money but about caring for others and creating a positive image as a brand;

Access to limited goods or activities

. You can hold meetings with experts, joint training, or any other activity where you will invite your clients;

and more.
A footwear retailer, Jambu, employs email marketing to notify customers about their loyalty program and win customers back.
4. Utilize Customer Referral Programs
Do you want to give customers extra reasons to recommend your products to their friends and families? Launch a referral program. It is about rewarding customers for bringing new clients to your business.
It works as word-of-mouth advertising, provided your existing clients are happy with your brand. What does a referral program give you? You reach a larger audience and encourage current customers to purchase.
According to a poll by Marketing Charts, referral marketing is the most effective approach at all sales funnel stages. Why? Because friends' advice is more convincing. And if you can get additional benefits from this, then it is even more pleasant.
Online merchants create their own referral systems. For example, Brooklinen gives 1,000 points for inviting a friend. And the referred person receives a $25 discount if the first purchase is more than $100.
5. Create Insightful Content
Customer loyalty stands on the quality content you create. Does it educate users? Does your product open up some extra opportunities?
Launch webinars and online courses, invest in live streams, publish books and other materials. If you show your expertise, the client will become more loyal and turn to you in case of problems.
For example, the Flo women's health tracker doesn't just work as a smart calendar. It also offers daily workouts, health tips, and relaxation materials to take control of your well-being. No wonder the app frequently gets to the top of the Health and Fitness category in the App Store. Unfortunately, it's not so helpful for males' health.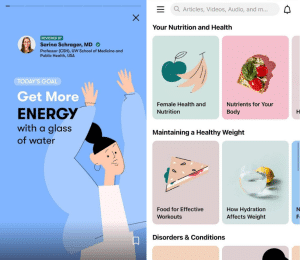 Food for Thought
People often use customer retention and customer loyalty as synonyms. However, this isn't quite true. The common ground is that both are important for business growth.
But retention and loyalty have different meanings and goals. Retention is all about preventing customer and revenue loss. Loyalty, in turn, aims to create a long and lasting relationship with the client and enhance your company's service and products.
Help the customer get accustomed to your product by onboarding them. Generate content they would want to share and collect their feedback. But remember to balance retaining dissatisfied customers and nurturing the loyalty of the happy ones.