In our previous article about D2C, we covered the main benefits of adopting this eCommerce strategy. Direct-to-Consumer can give your business more control over your products, access to critical customer data, and overall more profits. However, it's also true that D2C is a strategy that does not necessarily work for every business.
D2C undeniably has its benefits, but that does not mean that it comes with no challenges. In this article, we'll go over eight ways of getting started with D2C. But first, let's go over a few necessary things to know.
You Need a Robust Infrastructure
To have a good product is not enough to get started with D2C. First of all, you need a lot of other things, including a robust infrastructure. Right from advertising to getting the orders, packaging, and delivering, you'll have a plethora of decisions to make and responsibilities to face. A good infrastructure takes off a majority of the burden. In case it is not a viable option, you can always choose a 3rd party fulfillment provider like Amazon.
There May Be a Slowdown in Traffic
Gaining visibility and organic traffic is a real struggle for the brands new in the D2C field. The competition is tough. Before convincing your prospects to purchase your brand, you will have to put in extra effort to grab their attention first. Initially, a dip in the traffic is quite normal. Don't take it too seriously nor too lightly: Just continue with your efforts.
While it is easier for retailers like Amazon, Walmart, and more to get steady traffic, many brands optimize their traditional channels before going fully D2C to maintain the influx.
Your Choice of eCommerce Solution Matters a Lot
Which eCommerce platform you pick as your D2C partner matters a lot, as it determines the effectiveness and swiftness of your eCommerce operations. A range of eCommerce solutions is available today and each comes with its own set of features and capabilities. Affordability, maintenance, ease-to-operate, omnichannel delivery are some crucial criteria to consider when deciding the eCommerce solution.
Be Ready To Face Tough Competition
Why should your customers buy from you and not from your competitors? Ask this question to yourself 100 times if you want to beat the tough competition that exists in the D2C market. You should know your strengths and weaknesses thoroughly so that you are ready to face the obstacles in a better way and offer an excellent customer experience. Give your customers a reason not only to buy but to come back repeatedly. Loyalty and trust are difficult to gain, but once built they can take your business to new heights.
The Data Must Be Handled Skillfully
We have already stated the significance of data. Now it's time to understand the challenges that come with having an abundance of data. The inflow will be from diversified but siloed channels. Hence, the major challenge will be to filter and unify it so as to get a clear picture of customer journeys across the channels and segment its strategy creation. Handling data is not an easy task, but it is one of the most important things to do. Make sure that you get your data handled skillfully even if that means hiring external help.
Now that you are familiar with the basic, let's go through the 8 ways to get started with D2C:
1. Choose an Everyday Product and Make It Affordable
Do you know why Gillette got outdone by D2C brands like Dollar Shave Club and Harry's? Because these two companies understood that a razor is an everyday item that can be sold at much lower prices and saw an opening in the market. That's it!
You can follow that lead. Identify an item that is a necessity and research whether you can sell it at affordable prices than other major brands or not.
2. Heal the Pain-Points
For some products, pricing could be a major pain point for customers; in other cases, the pain points are others. Pick those pain points and fix them by offering your products as valid replacements. Market your brand in a way that displays how easily your product can take away the woos faced by the common people. For instance, plus-size brands have mushroomed a lot recently and their major focus is to offer a variety of styles that were previously unavailable to plus-size men and women.
3. A Subscription-Based Model Can Do Wonders
Companies like Harry's and Dollar Shave Club not only got their product strategy right, but also their marketing tactic. A subscription-based model can help in winning customer loyalty and, at the same time, money, time, and effort of the customers.
BarkBox is one of the D2C brands that is making the best use of the subscription model. It customizes its services by sending toys, treats, and chews every month to subscribers. To make things more interesting they have new themes every month according to which each box is customized.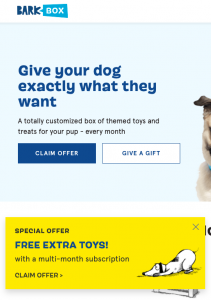 4. Simplify The Choice
When taking the D2C route, you have to understand that you cannot be a master for all. Simplify the choices for your customers. A good way is to start by researching your product and the expectations of the customers. Unify your data to create a product that targets a wide customer base. Do not try to cover the entire market right away, or else you will lose out on the sales that matter.
5. Offer Seamless Purchase, Returns, and Transaction Options
Customers today can be lazy. They don't want to put extra effort into buying a certain product. So, it's up to you not to make them do that extra work. Make your purchasing process simpler, give options like no-fee or quick returns, and offer multiple channels to carry out transactions at checkout.
6. Marketing Methods That Meet Today's Landscape
Gone are those days when marketing included advertising only over TV or radio or put an ad up on a billboard. Today, you need an approach that includes diversified marketing modules that allow you to target customers anywhere and anytime. Get your content curated according to the customers' tastes and serve it through the right channel and at the right time. Moment marketing is here to stay for a while.
Involve influencers. You don't have to do it as Casper Mattress did by involving Kylie Jenner in their social media campaigns — you can reach out to the influencers who are more affordable.
Create engaging content and leverage technology to leave a long-lasting impression. For example, Dollar Shave Club's video Our Blades Are F***ing Great earned over 26 million views in 2012. Two years later, the brand raked $65 million in sales. They further created more engaging content and kept their customers glued not only to the content but also their product.
Get Your Customers on The Advertising Board. Glossier showed us how you don't need to reach out to big names to get your product promoted. The brand reached out to its 'superfans,' that is the customers who repeatedly purchased to promote their products.  The user-generated content created a stir and made the brand more relatable. A similar approach is taken by brands like BarkBox and Manscaped, which encourage their customers to share their experiences over social media and spread the word.
Stick to The Basics of SEO. Sticking to basic SEO and running the campaigns can guarantee a solid online presence. Even when the word about you is running well, many new users go to Google to make sure that the news is true or not. In such cases, having a good relationship with Search Engines can offer a new lead.
Social Media Channels take you to a different level. Here are some key facts that will make you establish or revive social media marketing for your business. Shopify stated that 85% of their orders come directly from Facebook. There are also more than 25 million business profiles. According to Global Media Insight, 60% of people prefer watching a video rather than reading text. 
Isn't it enough to know how effective social media is for growing your business?
7. Leverage Fulfillment Companies
By utilizing a fulfillment company such as Amazon, you can use their logistics and distribution facilities in exchange for the percentage of your sale or a fixed monthly price. Plus, these giants can give your brand excellent exposure as they get a huge number of customers every day.
8. The Era Of Headless Commerce
COVID-19 ushered a new era in the world of eCommerce. The pandemic fast-forwarded the evolution by many years in just a few months. As a result, today we are in the era of headless commerce, where brands have freedom of expression along with technological advancements guiding their way.
D2C businesses can harness the benefits of these times by investing in a CMS that offers communication capabilities as well as transactional features. Instantaneous changes, quick optimization, rich user experiences are the advantages that headless commerce offers to businesses. If you are looking forward to staying ahead of the innovation curve and creating a compelling customer experience then headless commerce is certainly for you.
In Conclusion…
B2B, B2C, and now D2C… We understand that these terms may become confusing, especially when you are out to embark on your next eCommerce journey. We hope that this comprehensive guide on D2C can help your next business venture win big.