Each month, through our partnership with Harvard Business Review, we refresh our business library for CIOs with five new HBR articles we believe CIOs and IT leaders will value highly. Check out the curated pieces below, available to readers through the end of January.
What is the next normal going to look like? HBR editor in chief Adi Ignatius met virtually with five CEOs across multiple industries to ask how they saw their businesses changing post-crisis. Throughout the conversation, leaders Kevin Sneader of McKinsey & Company, Nancy McKinstry of Wolters Kluwer, Tory Burch, Geoff Martha of Medtronic, and Chuck Robbins of Cisco Systems discussed what it meant to be an effective leader during uncertain times, how COVID-19 radically shifted their businesses, and what will likely change about how organizations are managed going forward. Download this article to learn why being human and embracing agility will set the great leaders apart in the next normal.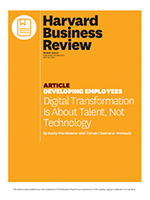 Most would agree that people are an essential component to a successful digital transformation, but Becky Frankiewicz and Tomas Chamorro-Premuzic get to the heart of why talent far outweighs technology in importance in this HBR article. "You can pretty much buy any technology, but your ability to adapt to an even more digital future depends on developing the next generation of skills, closing the gap between talent supply and demand, and future-proofing your own and others' potential," they write. Here, they provide a roadmap for how leaders can put people first and focus on the right skill development for digital transformation success. When it comes to the technology side of the house, Frankiewicz and Chamorro-Premuzic advise leaders to act on data insights and embrace a culture of experimentation.
Although experience and intelligence are important factors in getting to the next stage of your career, luck can sometimes be a driving factor. Bumping into the right person at an event or a cold email to someone you admire can unlock career opportunities you might not have had otherwise. Christian Busch says you can cultivate this kind of "smart luck" – and offers up two practices anyone can use to create more serendipity along their career journey. In this HBR article, he describes how to "set hooks" and "plant bombs." Both strategies assist job seekers in highlighting their passions and career aspirations in both one-on-one and group situations so that they can connect more easily with the people who can help them get a leg up.
In January, you'll undoubtedly be a part of a few group planning meetings to strategize on the challenges and opportunities you'll face in the new year. But tapping the collective knowledge of a group doesn't always lead to the best outcomes, warn Torben Emmerling and Duncan Rooders in this HBR article. "Because of an over-reliance on hierarchy, an instinct to prevent dissent, and a desire to preserve harmony, many groups fall into groupthink," they write. How can your team get better at group decision making to ensure the best ideas rise to the top? The answer is a series of simple steps – such as appointing a "devil's advocate" and collecting ideas before the group comes together – that add up to more consistently positive and creative interactions between group members. Download this article to learn more.
According to psychologists, "negative experiences can spur positive change, including a recognition of personal strength, the exploration of new possibilities, improved relationships, a greater appreciation for life, and spiritual growth," notes Richard G. Tedeschi in this HBR article. Leaders can help facilitate positive post-traumatic growth in five ways: through education, emotional regulation, disclosure, narrative development, and service. In this article, Tedeschi explains these elements of growth in detail and describes how individuals can emerge from trauma stronger – as well as how leaders can help by encouraging introspection and curiosity, actively listening, and offering compassionate feedback.
The year 2020 brings completely new IT talent challenges to organizations. In the decade ahead, technology talent will play a pivotal role in whether companies succeed or fail. This new research from Harvard Business Review Analytic Services identifies five talent practices CIOs should adopt now to ensure their organizations thrive in the future, offering insights from more than a dozen CIOs and talent experts. Download this report for real-world examples of how you can attract and cultivate the IT talent that will help you succeed.