Adapting to the accelerating pace of customer changes
I do speak to a lot of marketers and CX practitioners around the globe about the fast pace of customer changes – which has been accelerated by COVID-19. Bring to it, technology and regulatory changes, and it certainly comes as an interesting time to be leading a deep transformation and make your business thrive in today's world.
Today, being committed to customer-centricity is more important than ever for a brand. So improved management of customer data is the key component to success.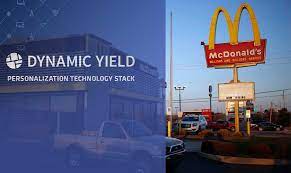 In  2019 Mcdonald's invested $300M in acquisition for Dynamic Yield, an Israeli AI company specializing in personalization and decision logic technology, and again for Apprente a silicon Valley AI-powered speech understanding company.
Why is the world's largest fast-food chain buying tech startups?
McDonald's realized that the ability to detect customer signals quickly, to make offers, and to deliver them across digital channels are essentials to win in their industry.
The first application of the technology appeared in McDonald's drive-thrus by optimizing the digital menu board. The features included detecting the customers, their car type, the people sitting in the car, factoring in seasonality and the time of day. AI is driving the selections on the menu board. Instead of an overwhelming 35 items, only 7 of the most likely items to be selected are displayed based on past preferences and patterns. The result: orders are placed faster, and both the average order size and the volume of cars able to get through at peak meal times increased. Taking into account that McDonald's' owns 38,000 locations, this represents real revenue.
The next steps are the extension of personalization capabilities to in-store kiosks and McDonald's mobile app. McDonald's gets that customer experiences must be personalized and fuelled with data. McDonald's gets that investing in technologies – AI, real-time customer data, and digital personalization – can deliver strategic competitive advantage.
Where does this acceleration come from? Have companies already used data to bridge the CX gap?
The sanitary crisis we are all going through has accelerated existing trends about CX transformation. As McKinsey reckons: "Indeed, recent data show that we have vaulted five years forward in consumer and business digital adoption in a matter of around eight weeks."
But what are these major trends?
Experiences define value – more than goods and services.  "The burger was good, but it was great how they knew what I wanted"
The customer is the innovator – the real innovator today is the consumer, whether digital native or like me, digital immigrant. We're all trying new devices, channels and subscribing to services. Change is a constant. And this applies to B2C consumers and B2B buyers.
Customer journeys are non-linear and unpredictable – we use a mix of digital and physical channels now, often in the same transaction. Today, we talk about digital, physical, and even "phygital". Customers also want to transact in channels you don't own like What's App, Messenger, WeChat, or Smart Speakers.
At all stages of the customer journey — discovery, engagement, consumption, or service — brands should provide  the ability to whoever is to interact with the customer next, including automated touchpoints :
the context and channel for the best interaction possible,
what to know, say and do.
This will in turn provide the most effortless customer experience possible, measured ideally with the Customer Effort Score (CES). Tracking and improving the CES improves associated metrics naturally like Net Promoter Score (NPS), customer satisfaction score (CSAT), and more.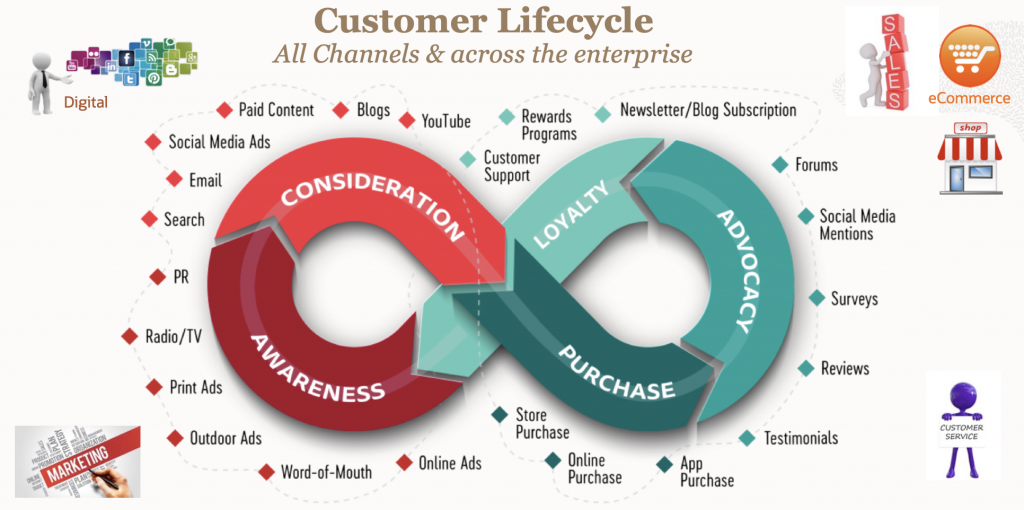 How can we make it happen? Where to start?
I've been asked these questions many many times. My answer has invariably been articulated along these lines: start with the data!
Break internal silos and walk the talk of customer centricity: create a central repository (MDM)that combines all of the data you can gather from every department in your business about your customers — front and back-office altogether. This is called 1st party data. This challenge is a matter of logistics and agenda rather than a technology one. If you can, add your ecosystem's customer data as well, called 2nd party data.
Augment your holistic customer data with the signals they leave all over the digital realm and outside of your own digital "real estate". This is often referred to 3rd party data. This is heavy-duty as you will be looking at something like 40,000 data points per individual. Aim to collect it the closest to real-time as possible, as you don't want to miss any of the micro-moments sparkling the customer journey. Each time an individual uses their mobile device to make a decision, take action about going somewhere, knowing, doing, or buying something, your brand should proactively be there in the very micro-moment.
Apply intelligence to your customer data to be able to determine what would be the next best interaction with each of them, in what context, on what channel and who or what in your organization should be delivering it: digital marketing, eCommerce, sales, customer service, … In this area, given the volume of data and the impatience we all developed as individuals, AI and Machine Learning will be your best friends. Ask McDonald when in doubt!
Automate these CX interactions as much as you can, don't forget about the increasing usage of conversational UI like chatbots, instant messaging, and voice devices. Create consistent digital-first experiences across all channels.
Cultivate authenticity in your interactions as emotions play an important role in customers' decisions making, personalize every customer interaction across the customer journey taking advantage of the many CX technology vendors as they offer powerful means to help you make it happen.
Data comes from many different touchpoints and activities you can and should conduct:
optimizing the website,
automating marketing communications,
streamlining online commerce and optimizing product ordering and fulfillment,
driving efficiencies in in-store POS systems,
implementing and upgrading contact centers to better help support customers needs,
monitoring and billing for the usage of the products you sell,
creating loyalty programs to connect with your most valuable customers
Don't be shy, be bold!
Overall, reconnect with your customers' right brain! Do not only rely on demographics, historic data, and other left-brain data-driven methods to evolve the offered experience, but opt for real-life immersion in your customer's view of the world to address their real pains, and offer value they will perceive vs. your competitors. What the sanitary crisis taught all of us, is that the past does not predict the future in terms of customer behavior. We should always be listening with empathy.
Don't be shy, be bold! Let's even try even to challenge your CEO to experience what happens when connecting to customers in real life. In this area, using some design thinking methods could be of great help.