A long time ago in a land far away–or so it seems that way after this year–I traveled a lot for both business and for fun. One national airline's hub is in my closest, so naturally, I flew them to most places. The digital experience I have with this airline is amazing; their app is simple to use, I'm able to change flights easily, choose or change seats and on occasion, I'm stuck in an airport away from home, or my flight is delayed or canceled, 9 times out of 10, I'm able to go to plan B on my phone before reaching the head of the line to talk to a representative.
I'm thankful for that because while the digital customer experience is frictionless and easy, most times I've had to talk to a human, my experience becomes miserable. Phone calls have ended with me telling the rep that I now need to call my doctor for blood pressure meds. My airport experience starts with me approaching the Premier counter for which I qualify, and instead of being greeted nicely, a representative barks "Priority?" at me. And while I'm pretty low maintenance on flights—I've never eaten and very rarely take a drink as I carry my own onboard, being yelled at to watch my elbows, woken up on an overnight flight to ask if I want anything, or being told I can't move into that empty row because it's a priority row when I'm already in a priority row has made me absolutely dread the day I have to go back to flying them. If only the entire customer experience was as good as the digital experience, I'd feel less forced to be a customer because of the Hub and less vocal about sharing my disdain and more of an advocate.
This airline is not the only company that offers an inconsistent customer experience, unfortunately. Many companies fall into the trap of inconsistent experiences across different channels, which not only harm their brand reputation but ultimately affects the bottom line. We are in the experience economy; the biggest companies in the world have gotten there because they've changed the experience putting the customer first—think Amazon, NetFlix, and Uber. Coming out of the altered reality of the past year, a consistent customer experience across all channels is what is going to enable companies to thrive.
It's imperative to understand, though, that it's not just consumer brands that need to think about the experience; all brands do, even B-to-B. Because, after all, at the end of the day, we are all selling to human beings.
As a B-to-B marketer, I often get asked what one tactic or piece of content is creating the most "leads" for our company. When you're focused on Marketing and Sales, it's understandable why we'd want to understand what the one silver bullet is when it comes to getting someone to buy from us. But here's the thing, there is no such thing as the silver bullet. Customers are now experiencing brands in multiple channels aside from the company's own website—publishing sites, social media, search, industry newsletters, e-commerce sites—in fact, in a recent study, over 240 B-to-B buyers said they are reading at least 13 pieces of content before making a buying decision. Further, the study showed that when starting their research, B-to-B buyers prefer vendor videos and peer reviews; and when they are shortlisting vendors, they consume 3rd party articles, more videos, analyst reports; and continue to read analyst reports and peer reviews through their final decision.
That's, at a minimum, thirteen interactions in a number of different places in order to get a buyer to consider buying from you. Add on top of that that the buyer's journey is not linear, and everyone behaves differently. That requires marketers to offer a variety of content in various formats in a number of tactics and channels to appeal to all buyers. The complexity of the buying process, human behavior, and what it takes to get the attention of potential buyers not only makes it challenging to create the right strategy and content to acquire and engage the buying audience, it's made a consistent, connected experience essential to success.
Let's face it, making a buying decision with your company's money is scary. No one wants to purchase technology or services that have no impact on their company or, worse, hurts rather than helps, especially now when budgets are tightened and scrutinized. There's an old saying, "No one ever got fired for buying from IBM," but that's from the days when there were few choices. Today's B-to-B buyer is faced with digital transformation, business disruption, an overwhelming amount of data, and access to more information than ever before, not to mention a multitude of vendors for every problem they're trying to solve. To cut through all that noise, Marketers need to provide an experience and content that helps the buyer feel more comfortable and confident by making them more knowledgeable and more empowered to make the right decision. With all of this distraction, it's easy to lose your potential customer along their journey if your content is inconsistent or you haven't created a path to the next piece of content. And, it's essential to make your content part of their journey to be considered. In fact, the Content Marketing Institute found that that 61% of consumers feel better about a company that delivers custom content, and they are also more likely to buy from that company.
Marketers need to design an always-on, digital-first strategy that strongly ties the digital experience to the personal experience. When done right, all content and tactics leverage a number of different channels where the buyers are already going to research new solutions or keep current on their field. The experience throughout all those touches needs to tie together to provide an easy-to-follow guided path to the reader and allows them to come in and out of the journey as they want but still get a consistent experience no matter when or where they engage. It should look something like this: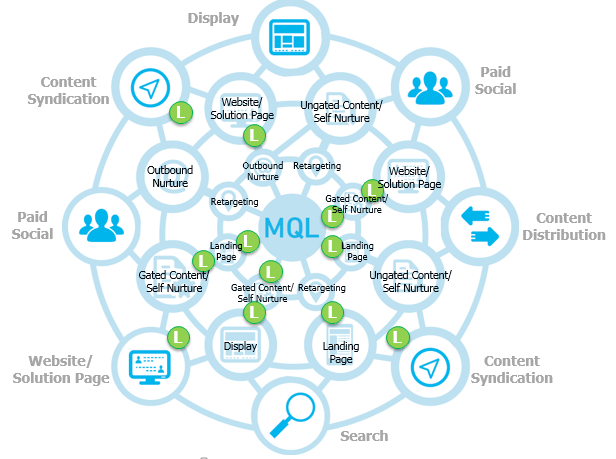 But it doesn't stop there. It could be the most buttoned-up, always-on digital marketing strategy, but if it's disconnected to the person-to-person experience, like my airline example, the company falters. This starts with the very first phone call with sales. In order to tie the customer's online experience to their in-person experience, both Marketing and Sales have to be telling the same story. In another study, 59% of the respondents agreed that their brand experience, message, and story is getting diluted before it reaches the buyer. When asked to quantify the cost of brand dilution, more than a quarter (28%) say the cost is at least $10MM annually, with another 24% estimating $6-$10MM in lost revenue1. This makes brand dilution a company-wide challenge.
Conversely, companies that do have a consistent experience across all touchpoints see significant benefits in addition to $10M and more boost in the bottom line. In fact, 71% of companies say that consistent experience and a consistent brand increase sales, and 85% leads to customer satisfaction.
As Marketers, we're all on the same quest to be able to predict business outcomes like revenue, advocacy, and loyalty. In this experience economy, that comes from a consistent, easy experience no matter how customers prefer to engage.