Your employees power the customer experience.
They're the driving force behind sales calls, customer support and various brick-and-mortar experiences. Your customers interface with them day in and day out – which in turn elevates or dampens the customer experience.
However, that's not the only way your employees touch the customer experience – they impact the content experience, too. The continuity between the two are deeply interconnected as your employees are both the human power and the voice behind all content creation whether that entails design, copy, website development and more. And furthermore, a customer's experience with sales can wind up impacting their content experience and vice versa.
So, as a result, it's safe to say that your employees wind up impacting CX in two ways:
Okay. That probably sounds a little dramatic and finite, so allow me to elaborate a little.
As much as your employees have the capacity to power and elevate your customer and content experience, they can negatively impact it as well. And oftentimes, a CX failure is indicative of a team-wide, internal problem – because CX isn't just one person's job: it's everyone's job.
For example, when CX suffers it's because:
Many employees don't understand why the customer experience matters or how they influence it.
Many employees are so siloed in their role that they don't understand what the customer experience is like in reality, leading to inconsistencies between teams.
Many employees don't have enough resources, training or processes to prevent off-brand materials being sent to customers.
Employees are disengaged, overwhelmed or disconnected from the brand creating a negative or casual attitude that is passed on to the customer.
These four examples directly create a disconnected CX experience. Your employees aren't empowered, therefore the customer experience suffers.
So, rather than viewing your CX strategy strictly from a customer-centric perspective, you must approach it from the bottom – starting with your employees – and empower your teams with solutions and resources. Because, by balancing the scales and improving your employee experience, you can boost and improve your CX experience.
How?
Two things:
Empower your team – Their voices need to be heard. Communication is key to closing the gaps in your CX strategy as it ensures that everyone is on the same page, is aware of the same information and understands the common CX goals they're working toward.
Bridge the gaps between departments – CX failure frequently occurs when there's a disconnect between the touchpoints, which is often endemic to a lack of cross-functional collaboration and working relationships between different teams or departments.
Improve employee morale and boost CX
With all that said, a key component to ensuring an effective content experience lay within a very obvious place – your employees.
Because at the end of the day, your employees are the bedrock of your company. All their hard work, effort and due diligence are the reason your business strategies come to life. And to that end, it's imperative that you provide your employees with the type of resources and time that empower them to not only do their job, but to do their job effectively and efficiently.
The reason?
Empowered employees are engaged employees – and resources are your means of engaging them. Organizations with an engaged employee base boast 2.5x more in revenue when compared against competitors with low employee engagement.
In other words, empowering your employees leads to higher levels of engagement which in turn boosts your CX score.
How to improve engagement
There's always room for improvement.
Unfortunately, improving employee engagement doesn't happen overnight. But there are a few measures you can take to facilitate change and better understand what your employees need in order to do their job well.
Create an employee experience map
Just as you create a customer experience map to better understand your customers' habits, hurdles, preferences and more, you need to create an employee experience map. By doing this, you stand to gain a deeper understanding of your current employee experience and therefore have the opportunity to improve your CX score.
And just like your customer experience map, you should take the following components into account when creating the employee experience journey:
Employee segments
Employee personas – and the journey per each persona
Employee insights
Stages of the employee experience

Source: Lucidpress.com
Once you've created your employee map, you'll need to identify potential soft spots and bottlenecks in production. I recommend using a simple survey — however, rather than focusing on overall employee satisfaction, you'll need to ascertain the effectiveness of employee processes and resources. For example, include questions such as:
What resources do you use on a regular basis?
Do you find these resources helpful? Iterate your answer on a scale of 1 to 10 (10 being most helpful)
Do you wish you had different or additional resources (e.g., software, team members and so forth)?
What headwinds do you encounter the most (e.g., Too many custom requests, not enough time, stiff software, and so forth)?
This level of detailed information can help you bridge the gap between non-engaged and engaged employees, which leads us to our next section.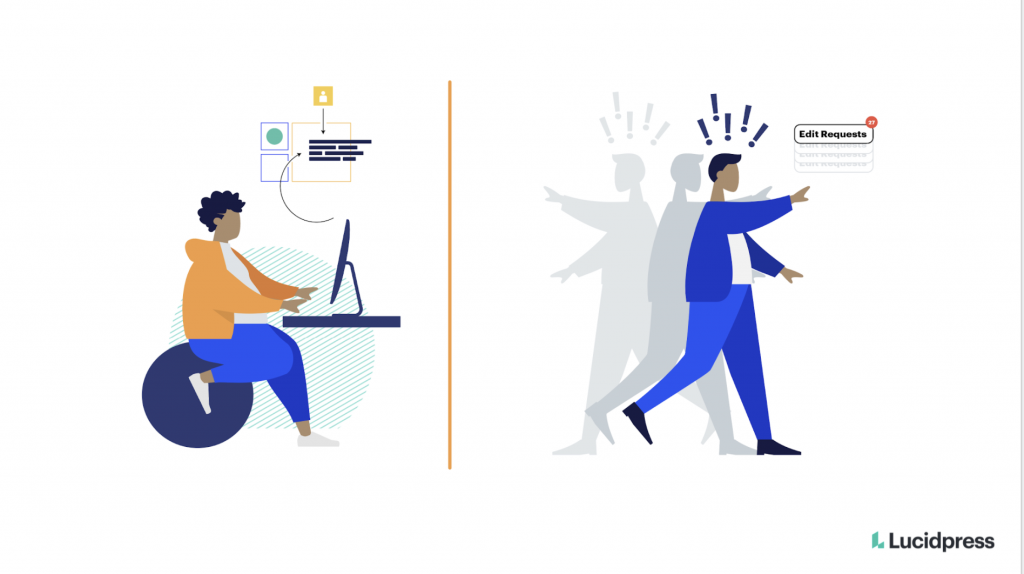 Source: Lucidpress.com
Empower your employees with brand templating
Everyone in your organization is a content creator. From the sales team to channel partners, it's the small, everyday pieces of content these teams rely on to acquire and retain customers. But traditional creative processes aren't built for the small content updates necessary to personalize and localize content to a specific customer while maintaining brand consistency.
So, what's a CMO to do?
Lean on brand templating.
Brand templating empowers your employees to create the type of content your customers expect – without encountering bottlenecks or having to download hard-to-use software. Most businesses use templates in various forms. Brand templating formalizes this process by templatizing all of the most common content requests across the company, locking down brand elements and providing those templates to everyone across the organization. This process overcomes many of the frustrations of the employee experience while enabling employees to provide a better customer experience.
Everything trickles down into something. In order to have memorable content experiences, the content must reflect the customer. And in order to create memorable content experiences for your customers, you need to have engaged, empowered and informed employees creating the content.